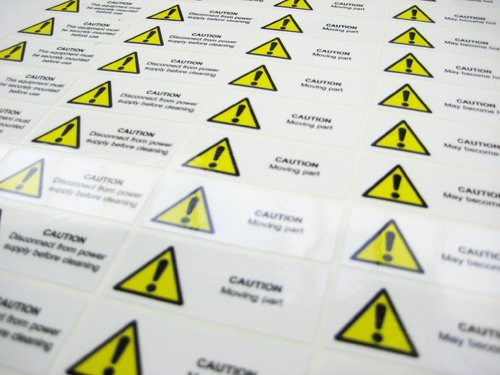 Accessories
No accessories for this product.
Approximate Dispatch Times
| | |
| --- | --- |
| Hardware only | Same / Next Day* |
| With graphics | 3-5 Days* |
| Out of stock | 4-7 Days* |
| Made-to-order | 5-10 Days* |
White Self Adhesive Sticker / Label Printing
Sorry, this product is not available for online order yet.
Please call 01440 712713 to order
Labels are often a mandatory Health and Safety requirement, but they can also be a very effective and cheap form of advertising. Good labeling of a product not only gives it a recognisable identity, it is also very good for boosting its brand awareness and can give the product an added value, especially so if they are domed.
We produce thousands of self-adhesive printed vinyl labels every month, from simple large square cut bespoke one-offs, to runs of several thousand, intricately contour cut component labels. Whether your requirement is for single colour or full colour, large or small, for 10 off, or for thousands our digitally printed vinyl labels will exceed your expectations.
All labels are digitally printed using either pigmented solvent or pigmented UV curable inks. Both these ink types give a good quality waterproof and fade resistant result. As standard, we print our labels on a 3-5yr polymeric white or clear vinyl, but, cheaper, short-term and removable adhesive vinyls are also available. Once printed, we usually laminate then contour cut your labels to shape.
Adhesive Label Finishes
There are 3 main finishing options to choose from when your labels are printed
No Lamination
Unlaminated labels are more cost effective and are usually short-term (in instances where scratching will not be an issue). If you require your labels to remain unlaminated just select no for the following two finishing options.
Lamination
Matt, matt textured, satin, gloss or anti-graffiti finishes are available. Lamination is a clear film that is applied over the top of the label, this not only enhances its appearance but it also increases its life by reducing scratching, it also further aids the risk of fading as our laminates also contain a uv barrier.
Doming
This is when a clear 2-part liquid gel is applied to the label which then sets solid. Doming gives the same added benefits of lamination but it also totally enhances the finish by giving the label a 3D look. Although the process of doming is considerably more costly and time-consuming to produce, a beautifully finished domed label is much better suited to certain applications, such as promotional products, computer branding etc.
Digitally Printed With Pigmented Solvent / Pigmented UV Curable Inks
Single Colour To Full Colour (no price difference)
Waterproof And Fade Resistant (depending on selected options)
Lamination and Contour Cutting If Required
Supplied On A4 / A3 Sheets or as individuals (with or without 5mm borders)
Brand:
Stylize
MPN:
SELFADHESIVELABELS
Sorry, there are no reviews for this product.
Sorry, there are no downloads for this product.
Sorry, no videos for this product